Asics Gel Kayano 22 Review – Lightweight and Ideal for Marathon Runners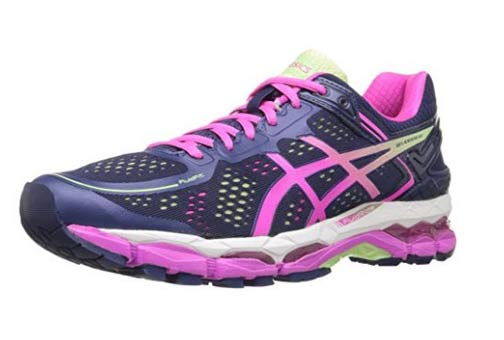 Do you want to accomplish your running or workout goals? The Asics Gel Kayano 22 will help you do that. This flat feet running shoe is lightweight and ideal for marathon runners.
You will experience a smooth feel in the heel and toe area due to the gel in underfoot.
A memory-foam-lined heel assures you a personalized fit. Further, this feature offers better arch support.
You will love the upper mesh design that keeps your feet cool and dry. Its midsole offers your foot excellent comfort while absorbing ground impacts.
The Asics Gel Kayano 22 review below has all features of this shoe.
Asics Gel Kayano 22 Overview
Rubber sole and synthetic/fabric material.
Gait-improving impact guidance system.
FluidRide bounce-back cushioning.
FluidFit multi-directional reinforced upper.
Heel clutching system.
Upper
The upper section features a special foam heel construction, PHF. The Personal Heel Fit offers a cozy feel within your heel. That reduces chances of irritation and slippage. The lacing system provides you a perfect fit and reduces friction. Also, it has a waterproof upper to keep your feet dry. The breathable upper also allows your feet to stay cool.
Midsole
The midsole has tri-density foam to you offer you enough comfort and support. This density foam also helps improve your guidance when running. In the midsole are there is the trusstic which offers stability. This material also helps control torsion of your feet when running. Duotruss in midsole improves your torsion stability and arch support.
Outsole
The outsole has textured and designed lugs. Blown rubber in the forefoot offers you excellent grip. In the rearfoot, there is carbon rubber for durability. This Asics Gel System allows premium shock absorption while taking off and landing. The high abrasion resistance rubber enhances durability so that you will use this shoe for long. You will love this shoe since the outsole is specifically designed for cushioning and comfort.
Flexibility
Does flexibility matter so much in your workouts? Then you should not look any further. The Asics gel Kayano 22 offers excellent flexibility to keep you moving. The heel and toe sections are not stiff nor are they very flexible. A good balance of weight in this shoe ensures your feet are flexible while running. The toe box is a bit roomy to ensure your toes move freely. Also, the midsole has a tri-density foam to enhance flexibility.
Stability
This flat foot running shoe offers better stability allowing you have control on uneven roads. Both the arch and heel section has extra foam for stability and support. The side grooves are also well designed to offer you stability while running. With this shoe, you are sure of great stability to finish every race.
Weight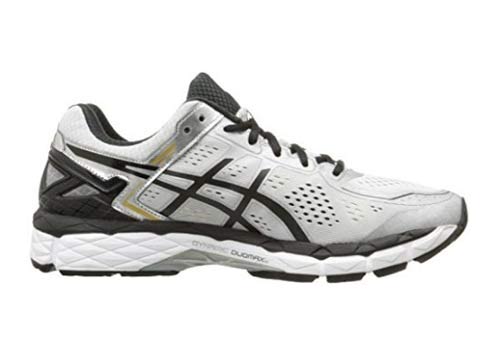 The Asics Gel Kayano 22 is a midweight stability shoe. Although it may not be very light compared to similar shoes, it performs great. The men's shoe weight about 309 grams. The women's version weighs 252 grams.
This stability shoe comes in a variety of colors. So you have the option to choose your favorite color. Or choose one that will match your terrain or tracksuits.
Pros:
Lightest Gel Kayano shoe.
Offers snug fit.
Highly durable.
Better cushioning.
A range of colors.
Gender-specific cushioning.
Cons:
Less flexible.
Not stylish.
Not good for snow and rough terrains.
Frequently Asked Questions (FAQ)
Q. I usually wear size 7 1/2. What size should I order?
A. I normally order 1/2 size. I suggest you get size 8, and it will be perfect.
Q. Is this shoe really good for plantar fasciitis?
A. Yes, it helps control plantar fasciitis due to high cushioning and support.
Q. What is the meaning of d, m, e as written in the size chart?
A. It indicates the width of the shoe. 2E is wide,4E is very wide, and D (M) is normal.
Final Verdict
With good plantar fasciitis shoes, you can perform better. The Asics Gel Kayano 22 is a great shoe made for marathoners. It is also ideal for short distance running and daily training. The upper design and midsole cushioning make it stand out. Also, it features gender-specific cushioning. You will not lack a good choice since it comes in a variety of colors.
Despite the few shortcomings, this shoe is a great purchase. I hope the Asics gel Kayano 22 review led to understand this shoe better.