Asics Gel Noosa Tri 9 Review – Most Comfortable Athletic Shoes
This is a very popular shoe from the high-quality range of running shoes by the infamous shoemaker, Asics.
This is a superbly-designed running and training shoe for female sports enthusiasts, professional athletes, and exercise addicts.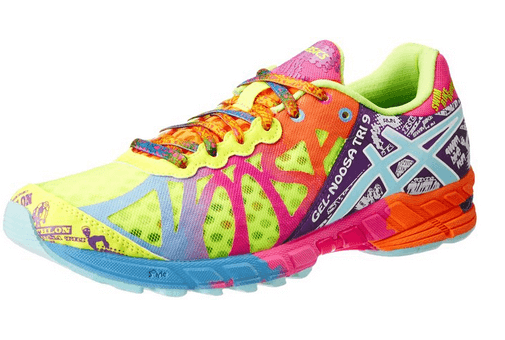 Besides being bright and colorful, there are various aspects that make this shoe easily stand out. Read on to find out the various features that make Gel Noosa Tri 9 a must-have shoe:
Design
Asics undoubtedly had in mind the notion that feeling confident and attractive makes a person a better runner. This shoe comes in 6 different outstanding designs, which are all colorful, unique and sure to draw attention. Weighing 9.3 ounces, this shoe sports a lightweight design that makes it quite ideal for jogging and running long distance.
Aesthetic Appeal
While the neon effect gives this shoe a beautiful aesthetic look, it also glows in the dark, which is an extra safety feature that will come in handy if you like running during the night.
The shoe also features elastic laces, a classic triathlon feature that allows you to put on the shoe effortless and securely.
Comfort
The open mesh higher and perforated sock liner add to the overall comfort of this shoe as they optimize moisture drainage and improve breathability.
The seamless construction also boasts comfort as it features skin-friendly materials that reduce the potential for friction and irritation that's caused by traditional seams and stitches.
Cushioning
The Gel Noosa Tri 9 provides the needed comfort for your feet, thanks to the Asics Gel cushioning technology that has been superbly incorporated.
The forefoot and rearfoot gel cushioning help in shock absorption during impact. The cushioning not only helps to protect your feet against irritations, but it also serves as a moisture absorber, leaving your feet feeling cool and fresh
Stability
The Asics Gel cushioning technology also helps a great deal in providing the needed stability for your feet.
Another technology that enhances stability is the Dynamic DuoMax Support System, which also increases platform support.
The vertical guidance line also aids in boosting stability by increasing your walking together with the line of progression.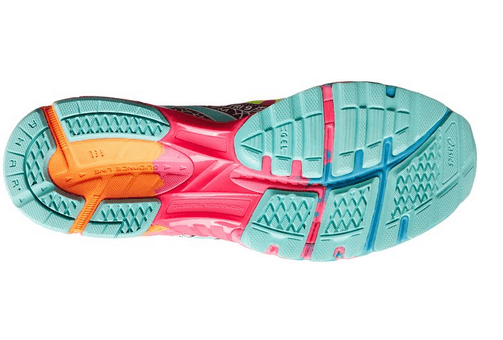 The shoe also comes with a wet grip outsole that's specially designed from a mixture of both organic and non-organic materials, which enhance the traction on wet places.
It also features the propulsion trust feature, which mimics the conjunctive membrane in the foot by making tension as the foot enters propulsion stage.
Performance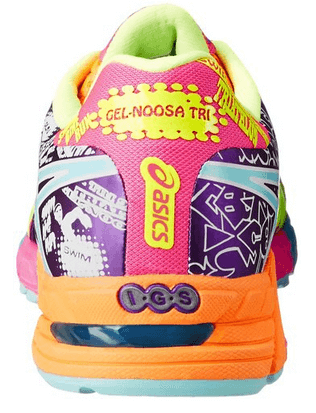 The Asics Women's Gel Noosa Tri 9 is designed for athletic trainers and runners. Nevertheless, this doesn't limit the shoe from being used by other women who do a few light exercises.
It's lightweight and protective features not only make it ideal for less intense exercises such as jogging and walking, but they also make it great for strenuous workouts such as running for long distances.
This is a shoe that gives you the best possible experience of both body and activity harmonization during workouts.
Pros:
It's lightweight, which makes it easy for you to exercise longer without straining.
It's superbly designed, making it aesthetically appealing.
There lots of color schemes to choose from.
It glows in the dark, making it safe for use at night.
It comes with adequate cushioning, adding to the overall comfort.
It's quite stable in dry and wet conditions.
It absorbs moisture and allows for breathability, leaving your feet dry and fresh.
It's made from durable materials, which prolongs it's lifespan.
Cons:
As with other Asics shoes, you should consider buying a half size up; otherwise the shoe won not fit.
This is narrow, thus not good for those with wide feet.
Frequently Asked Questions (FAQs)
Q. Are these good for people with plantar fasciitis?
A. Yes, they are. They have excellent support all around, including your heels.
Q. Do they have to mark soles and could they be used indoors?
A. Yes. Technically speaking, all shoes have to mark soles & can leave scuff marks. These shoes can be used indoors as well.
Q. Are they good for overpronators?
A. These are very supportive, thus good for overpronators.
Final Verdict
Asics shoes are highly preferred due to their great features and performance capabilities, and the Asics Women's Gel Noosa Tri 9 is no exception.
This shoe is not only aesthetically appealing, but it's also comfortable to wear both indoors and outdoors. What's more, is that it's quite safe to use even at night.
Is it worth a buy? For a shoe that enhances your workout sessions while keeping your feet comfortable, it certainly is!