8
10 Best Outdoor Basketball Shoes | Buyer's Guide & Reviews

If you frequently play outdoor basketball, you must be spending quite a lot on footwear. The good news is that you really don't have to spend a fortune on footgear for the love of the game.
Most basketball shoes on the market today are made for indoor use and hardly last long on tough outdoor courts. That's why it's important to invest in the best outdoor basketball shoes that can withstand the abuse of playing on asphalt surfaces unless you don't have a problem paying for new basketball shoes every other month.
With the right pair, you can deliver your best performance whether on rough asphalt or tough concrete surfaces.
So, how do you find the perfect footwear for outdoor basketball? Read on to learn more about the right footgear to tackle tough outdoor basketball courts.
Before we reveal all the details of our favorite products, check out the table below for a quick look at your best options.

Adidas Performance D Rose 6 Boost

Cushioning: Most heal cushion

Ute sit dolor lobortis.

Support: Great ankle and arch support

Cushioning: Responsive cushioning
For the full story on our favorites, don't miss our in-depth reviews below.
10 Best Outdoor Basketball Shoes Reviews
In the following section, we'll discuss 10 outdoor basketball shoes on the market today. The sneakers we have reviewed below vary in price and features, which should give you an easier time to choose one that suits your budget and playing needs.
Key Features:
Tough basketball shoes made of textile and rubber sole
Comes with a herringbone outer sole pattern
Forefoot features Nike Zoom unit
Features Nike signature details inside the tongue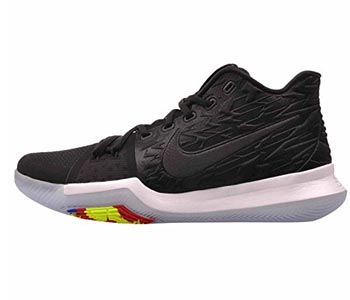 This is the third generation of Nike's Kyrie Irving basketball sneakers.
Most reviewers talk highly of its fair price, great traction, and attractive yet tough looks.
It is a light shoe best suited for fast guards who place a lot of emphasis on great traction on rough surfaces and impact protection.
Both the outsole and upper are made of strong, durable materials that can handle every type of court.
With advanced traction, lightweight cushioning, and zoned support, the shoe holds up pretty well in outdoor courts.
The only downside of this shoe is lack of cushioning but it still feels comfortable and stable.
Pros:
Great traction provided by the herringbone outer sole pattern
Made of strong and durable materials
Has a perfect court feel
Cons:
Some users claim the box feels a bit stiff at first but softens as you break the sneaker
A little more cushioning would have helped improve comfort
---
Key Features:
Tough outdoor basketball shoes made from a combination of leather, synthetic, mesh, rubber, and TPU materials
They feature lateral flare stabilizing which helps in sharp cuts and rapid side to side movements
The heel has a wing-like design for better Achilles support
Comes with Fused Mon-Mesh, Suede, and Air-Mesh tri-layer for maximum breathability
A mid-top collar that provides comfort and support without limiting your explosive motions while playing on a rough court
Features Zoom Air heel and forefoot

The KT2 is ANTA's second signature basketball shoe. Most users agree that it performs better than expected.
The best part of this basketball shoe is its herringbone pattern on the outsole that provides maximum grip and traction.
It uses ANTA EVA foam for comfort and stability.
The shoe is a perfect choice for outdoor basketball players.
Pros:
Provides excellent traction
Gives exceptional comfort and stability
Extremely durable
Cons:
A few users claim that it lacks in the esthetics department but it sure does make up for looks in functionality
---
Key Features:
Made from synthetic and textile materials
Features a lightweight but strong synthetic sole
A well cushioned high top outdoor basketball shoe with Boost technology, leather upper, and superior asymmetric collar
EVA midsole
A high-performance non-marking outsole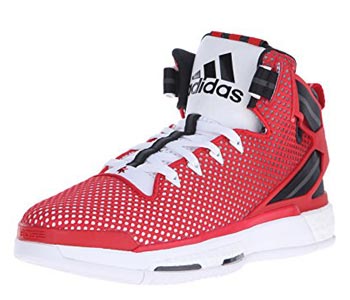 It is pretty obvious how the iconic Chicago point guard, Derrick Rose, reigns over any game at any time.
The Adidas Men's D Rose 6 basketball shoes are designed for players with the same high octane style as D-Rose.
In terms of traction, Adidas has outperformed this time with a tight although shallower design similar to the Hoops line up.
As some players would say, this shoe's traction is simply the beast.
The cushion is perfect, as you would expect from Boost technology.
The forefoot section is unlocked to help you play twice harder.
There are more reasons why we ranked these kicks among the best adidas basketball shoes.
For instance, they have a perfect fit that's true to your size and provide plenty of support features such as stabilizing Boost foam, Stable Frame, and torsion support from their X-Bar system.
Overall, the D Rose 6 is the ultimate monster on an outdoor court.
It's just the right pair for hopers and your explosive plays.
If you prefer a more prime knit upper, you could go the Adidas D Rose 6 Boost PrimeKnit which is exactly the same as the Performance D Rose 6 except for the upper.
The PrimeKnit version comes with a removable insole and a translucent "iced" outsole, which is not actually a major performance factor but an anesthetic addition.
Pros:
Perfect cushioning
Reliable traction
Great support and stability
Cons:
Just like any other good shoe, they'll need break in
The outsole may clog up with dust but you'll be good to go with a quick wipe
---
Key Features:
Durable rubber sole
Made from strong and lightweight synthetic and textile materials
Features Boost cushioning for comfort and stability
Comes in a Xeno upper and textile lining for added comfort
An advanced lacing system that reduces pressure on the shoe laces to keep your feet secured inside the shoe while playing.
Boost midsole with a tinted TPU wrap for stability and comfort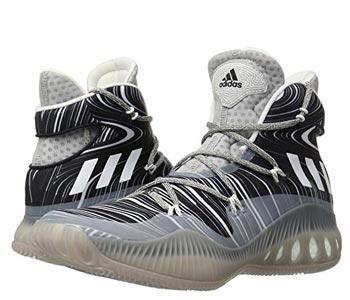 In the same price and features range as the D Rose 6 discussed above, is the Crazy Explosive, still from Adidas.
The Crazy Explosive are some of the best outdoor basketball shoes built using energy-returning Boost technology to give you an added lift as you jump your shots.
The Xeno upper and advanced lacing system significantly helps to reduce breakage.
The outsole provides perfect traction while the midsole has a stable frame underneath to give you maximum stability and support.
The Adidas Crazy Explosive fits nicely, true to your size although it may seem a bit narrow for those with wide feet.
The upper is constructed using Adidas PrimeKnit technology and Geofit bootie underneath.
The shoe has a unique and reliable anatomical lacing system to give your feet a secure snug fit while you play hard.
Pros:
The PrimeKnit feels soft, stretchy, and comfortable
Wraps nicely around the feet
Durable
Great lacing system
Great price
---
Key Features:
A comfortable mesh upper
Durable rubber sole
Perfect lockdown and stability provided by a lacing system that integrates Flywire cables
Keeps your foot locked in place using a molded TPU heel counter
Responsive cushioning provided by lightweight Forefoot Nike Zoom unit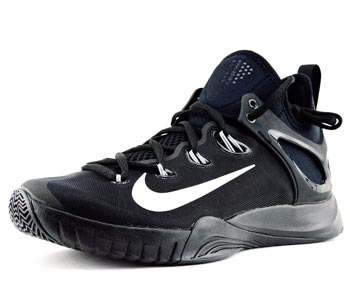 Nike Zoom Hyperrev basketball shoe is another great option.
This is a mid-top pair of outdoor basketball sneakers that provides optimal stability and the most responsive cushioning for comfort and high performance on hard surfaces.
It is a lightweight pair of basketball sneakers capable of giving you totally tubular performance.
In comparison to the popular Lebron Soldier IX, Nike has really upped its game with the Zoom Hperrev.
The outsole is made from pliable rubber with a good floor grip. The cushioning is Zoom Air, of course. The Nike proprietary cushioning technology has never disappointed – always comfortable and has a nice soft feel.
For those who prefer an asymmetrical U-throat style supporting fast movements, you could go for the Nike Men's Hyperchase, which is in almost the same price range and with similar features as the Zoom Hyperrev.
If you seek more color options, then the Nike Prime Hype DF II is a good choice with a wide range of 27 different colors.
However, the Prime Hype DF II is a high top basketball shoe version with a higher price tag.
Overall, the Nike Zoom Hyperrev is a gorgeous pair of basketball shoes strong enough to tackle the demands of an outdoor court. It has an appealing design and a snug secure fit.
Pros:
Perfect fit
Good traction
Provides great support and stability
Reasonably priced
Cons:
Comparatively lower profile but suitable for fast movements
---
Key Features:
Made with high-tech perforated textile and synthetic upper
Features a synthetic sole
A beautiful Adidas brand mark printed on the tongue
Features a textile collar to give you more comfort
A strong non-marking rubber outsole to tackle the hard surface of an outdoor basketball court.
Great cushioning and optimized rebounding provided by full-length ADIPRENE+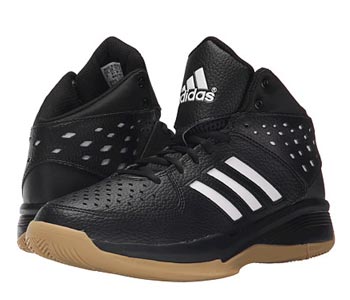 Similar to the above mentioned Adidas outdoor basketball shoes but available at a lower cost is the Men's Court Fury Adidas version.
It is a high top shoe featuring a textile and synthetic upper which is not only durable but perforated for added breathability too.
The strong upper material provides you with great stability and perfect ankle support.
Similar to the Adidas D Rose 6 and the Crazy Explosive versions, the Court Fury has a clean and classic style although its color options are rather conservative.
They come in 9 different color combinations, which make it easier to find a combination that suits your taste.
If you are looking for cheap outdoor basketball shoes, you could also look at the Adidas Performance Men's Outrival 2 shoe. It is similarly priced as the Court Fury and even features a collar fit for enhanced comfort.
Pros:
Good price
Quality high top outdoor basketball shoe
Made using durable materials
Comfortable even on rough terrains
Cons:
Has a snug fit for those with wide feet but you can always order half-size up
---
Key Features:
Mesh and synthetic upper materials
Improved cushioning system
Lightweight Sprint Web upper for great support and breathability
AdiPRENE+ mid sole to give you a cushioned ride
Non-marking outsole with varying thickness which makes it lightweight and durable
Good padding on the shoe's tongue to avoid pinching problems

The Adidas D Rose 773 III comes with a lower price tag than the two D Rose versions covered above but with almost similar features and specs.
It is a high top basketball shoe designed for any basketball position. It provides great flexibility for point guards and excellent support for other game positions.
The shoe has great traction despite the rather shallow grooves.
For their price, this pair of cheap outdoor basketball shoes is only rivaled by the Adidas Performance Isolation 2 which comes at almost the same price and good ankle support.
However, the Isolation 2 is available in 3 color combinations only while the D Rose 773 III comes in 26 colors. Overall, at its price, the D Rose 773 III provides great value for money.
Pros:
Most durable basketball shoes
Comes in a wide range of colors
Comfortable and stable
Cons:
Shallow grooves on the outsole provide good traction but may clog on a dirty outdoor court
---
Key Features
Made with a herringbone sole. They are designed for indoor use. You will not be able to get the same amount of benefit when playing on outdoor courts
Snug fit. They will not be 'sliding off' when you go into those bigger jumps
Padded soles which help with the landing
Provide excellent support for the ankles. This is important, because when you are landing, a lot of strain will be put on that area, and if you wear the wrong shoes, it could damage them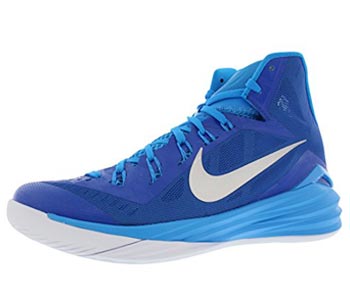 Many of the Nike shoes that you find on this list have been designed for skillful play or speed.
These shoes have been designed to help you dunk.
If you are one of those basketball players who really love getting some height and sticking the ball in the net,
the Nike Hyperdunk is worth checking out.
Pros:
Durable shoe
Designed for dunking
Stylish shoe
Cons:
Not great for speed players
---
Key Features
Constructed from high-quality leather to ensure maximum durability
The classic design which boasts some of the latest technology in the world of basketball shoes
Lace up closure
Can be used on a variety of playing surfaces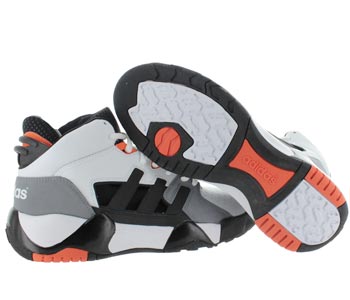 While Adidas has been rapidly expanding the range of basketball shoes that they have over their years,
it can be tough for many basketball players to forget the original 'Street Basketball Shoe'.
Thankfully, Adidas realized just how good these shoes were, so they decided to give them a re-release.
Here they are in all of their brilliance!
Pros:
Stylish shoe
Comfortable to wear
Perfect for use away from basketball court
Cons:
May be too narrow for people with wide feet
Limited color varieties
---
Key Features
These shoes have a breathable mesh which ensures that you can wear them comfortably for hours on end
These shoes utilize Nike Zoom technology on the forefoot.This ensures a high level of cushioning. This helps to keep your play nice and agile
Flywire cables over the arch of the foot keep the shoe responsive to your game. It will loosen and tighten with the natural motion of your foot
These shoes have been designed to be easy to put on and pull off
Shoes make use of Hyperposite wings to provide the highest level of support during those sharper cuts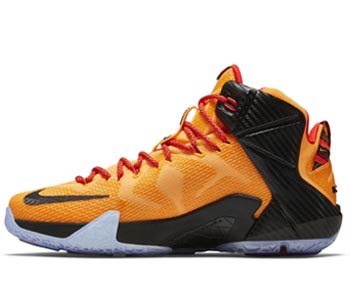 It seems that with this shoe, Nike threw in all of its major pieces of technology to create something which provides a high level of responsiveness.
If you opt for these shoes, then you can be sure that they are helping you to develop your game in every possible way.

Pros:
Responsive shoe
Durable
Cushioned, which enhances comfort
Suitable for most sports
---
Key Factors to Consider When Choosing the Good Outdoor Basketball Shoes
With the sports shoe market flooded with numerous basketball shoe brands and designs, choosing the good outdoor basketball shoes can be an overwhelming task.
It's quite possible to be tempted by a colorful pair with all the signs of a tough shoe and a fancy brand name only to end up with torn uppers or split soles the first time you hit the court adorned in your new shoes.
So how exactly do you find a pair of outdoor basketball shoes that is right for your needs and budget?
Here are some of the key factors to consider before you make that crucial purchasing decision.
---
What Type of Basketball Player are You?
What most people don't realize is that your personal playing style plays a key role in the type of basketball shoe you choose to invest in. Let's look at some of the most common types of players and the kind of shoes that suit them best.
The Power Player: This is the kind of player who'll need stability and perfect cushioning in a pair of outdoor basketball shoes. To enjoy the benefits of cushion and stability, you may need to play in a heavier pair of basketball shoes.
The Fast Player: This type of player has speed in mind at all times. If you are a fast player, go for a lightweight pair with moderate support, flexibility, and good cushioning. A lower-cut or low top type (more on shoe cut types shortly) is often a perfect choice.
The All-round Basketball Player: This is the kind of player who needs basketball shoes designed for both strength and speed. In this case, you'll do well in a pair with moderate ankle cushioning and support. You have a wide choice of lightweight shoes to choose from.
In a nutshell, find a pair that suits your playing style to boost your performance. This brings us to the next crucial aspect of outdoor basketball shoes – the shoe construction.
What is the Difference Between Outdoor and Indoor Basketball Shoes?
The question in the back of your mind most probably is, "Why not wear the same shoes for both indoor and outdoor basketball?"
Well, you can and still play your game but the indoor basketball shoe will have an adverse effect on your performance and comfort.
This why sports experts and experienced players recommend that you always use a different pair of basketball kicks for indoor and outdoor courts.  You can read this article about the low top basketball shoes so I am not going to talk about the same thing here again!
The outdoor court is most likely made from asphalt or concrete while the indoor court could be designed from hardwood.
The outdoor court is more demanding, stronger, and rougher than say a hardwood indoor floor. You need an equally strong pair of kicks to deliver optimal performance.
---
What to Look For in the Shoe Construction
Having a good understanding of a basketball shoe construction will help you to identify features that are crucial in your shoe selection.
Here are some of the most important basketball shoe construction features to check before you choose one that meets your playing needs.
The Basketball Shoe Upper
We all know what a shoe upper is – that soft upper part of the shoe. The upper plays an important role of keeping your foot snugly secured in place while you are playing.
It goes without saying that the best basketball shoes for outdoor courts should be designed using strong uppers with sufficient cushioning to ensure that you play comfortably regardless of the tough demands of the game.
The Shoe Cut
Basketball sneakers are categorized into 3 types depending on the shoe's upper, namely high tops, mid tops, and low tops.
Knowing which type of shoe cut feels most comfortable is important in your search for the right basketball sneakers.
High Tops: Most outdoor basketball players, close to 70%, prefer high tops.This is mainly because high tops offer maximum ankle support and stability.
Mid Tops: Mid tops have uppers that reach ankle level, unlike high tops which rise above the ankle.This type of basketball shoes is preferred by players who feel somehow restricted by high tops. It is a good choice for those who rely on speed as their greatest playing asset.
Low Tops: Not so many basketball players who use outdoor courts use low tops.It is said that only 10% of players wear low tops when playing on outdoor courts. Low tops are lighter and do not provide as much ankle support as high tops do.
---
Construction Materials of the Outdoor Hoop Shoes
Gone are the days when the best Adidas basketball shoes were made of an all-leather upper.
Today, basketball shoes are made using a combination of different upper materials to make them lighter and durable.
..For instance, in the past years, the best men's basketball shoes emphasized on strength at the expense of comfort
but
today it's all about a perfect mix of stability, breathability, and flexibility besides durability.
The best basketball shoes outdoor are made using a mix of leather for strength and synthetic materials that provide breathability and comfortable cushioning.
Synthetic uppers which are even more durable than leather have become popular.
They not only provide great stability but are super light-weight too.
---
How About the Shoe's Closure System?
Playing basketball on the tough outdoor terrain requires a higher level of stability than when you're playing on a smooth indoor surface.
You'll need to keep your feet snugly secured in the shoe using a good closure system.
You won't manage those quick turns, sudden stops, and starts, or fast side-to-side maneuvers with loosely held straps or laces.
A good lacing system should have lock holes to prevent the laces from untying or loosening.
A majority of basketball shoes feature straps for added stability while others have zippers covered by some form of protective materials.
There are even Velcro closure systems but these are mainly for young children and hardly reliable for outdoor basketball players.
A Velcro closure system does not provide good support.
---
The Midsole and the Outsole
This is the inner soft layer of shock-absorbing material that lies between the outer sole and the shoe's upper.
It is a crucial part of the overall construction of the shoe because its ability to provide sufficient cushioning and shock absorption can significantly affect your performance.
A good midsole should be made of a combination of polyurethane and EVA or compressed EVA materials.
The outsole is the rubber part of the shoe that comes into contact with the hard asphalt or concrete surface of an outdoor basketball court.
You can just imagine how critical this section of your basketball shoe is.
The outsole should preferably be flat, wide enough to give you a stable base, and ensure that your ankle doesn't roll over.
Sneakers designed for outdoor courts normally have heavier outsoles than their indoor counterparts.
Most feature a herringbone pattern that provides reliable traction to keep you steady when you make sudden stops and quick starts.
The outsole of outdoor basketball shoes should be durable enough to withstand the rigorous demands of the game.
A thicker outsole made of superior quality rubber will withstand frequent abrasion and every abuse that comes its way.
---
Size
Comfort, stability, breathability, and durability are important factors to consider when shopping for the best street basketball shoes but size does matter too.
Don't buy a pair of basketball shoes that fit you tightly or you may end restricting your movements while playing.
It goes without saying that trying to play in a shoe that's too big for your feet is a potential ingredient for injury. You are very likely to slip out of the shoe while running and fall.
Choose a good pair of outdoor basketball shoes that's right for your size.
---
Conclusion
You need to remember that this is not a 'definitive' list of every quality basketball in existence. In our opinion, it would probably be close to impossible to put together a list like that. Instead, when you read through these reviews, think of these shoes as being among the best of the best.
Our guide covers the breadth of basketball shoes on the market. We have left no stone unturned.
Therefore, if you end up picking a shoe from this page, and we seriously suggest that you do, then you can be sure that it is of a high quality.
No ifs or buts about that! These shoes are great. You are going to love them! Remember; we know that new shoes are coming out all of the time for basketball players. So, we will try to update this list of the best outdoor basketball shoes as regular basis.
Therefore, if something does not tickle your fancy right now, bookmark this website and return. You never know what you will be able to uncover in the future!
Related Buyer's guides and WealFeet Lists: